For the Love of Glass
The 2017 PCA, Inc. Convention
by Janet Cook
Photo Credits: Katie Malone-Smith
(all images except the First Cone Machine photo)
Click on any image to enlarge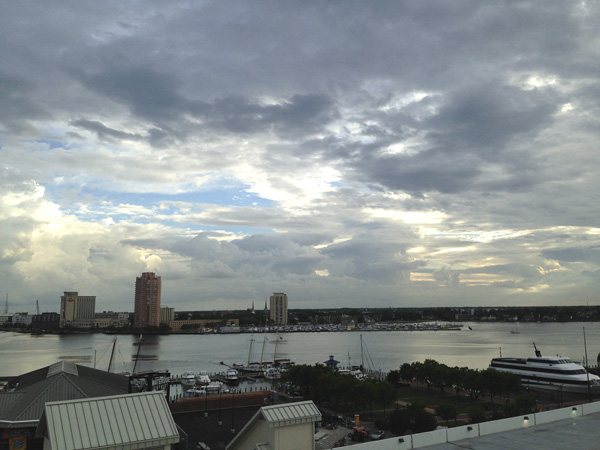 Norfolk, Virgina - Wednesday AM, April 26, 2017
They say Virginia is a place for lovers, and so it was last April when glass enthusiasts from around the world met in Norfolk to be romanced, yet again, by the art of the paperweight. The 2017 PCA Biennial Convention was held April 26-29 at the Norfolk Waterside Marriott, an ideal location for exploring this historic city and its surrounding waterfront district. PCA members hailed from 32 states and 7 foreign countries to attend the event. There were one hundred and sixty-eight participants, twenty-two of whom were first-timers. Twenty-five artists and dealers delighted attendees with a varied and stunning assortment of beautiful glass paperweights, vases, sculptures, and other paperweight-related objects. A number of stimulating programs were spaced throughout the four-day event, which also included a trip to the Chrysler Museum of Art and glass demonstrations held in the museum's Glass Studio.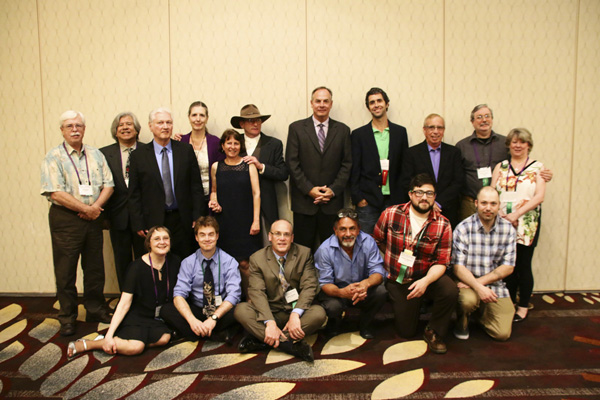 Paperweight artists. Can you name them?
A full day of sightseeing had been arranged for those able to arrive a day early. A bus tour took participants through Old Norfolk, originally established in 1682, to see various landmarks of interest. From here the motor coach headed to Naval Station Norfolk where guests were given an up-close look at what is known to be the largest naval facility in the world. A luncheon buffet was enjoyed on base. In the afternoon participants were treated to a tram tour of the 175 acre Norfolk Botanical Garden. Established in 1938 as a Federal Works Project, the garden is especially known for its collections of azaleas, camellias, roses and crape myrtles. The many varieties of plants, grasses, and trees that were in bloom, coupled with the beautiful weather, made for a perfect visit. The day's activities ended with a visit to Doumar's Cones & Barbeque (see picture below), home of the first ice cream cone maker (founder Abe Doumar, coincidentally a traveling paperweight salesman, invented the waffle cone at the 1904 World's Fair). While at the restaurant, guests watched a demonstration of waffle cone making using Doumar's original machines and then enjoyed ice cream cones — "a nice end to an interesting and informative day" commented former PCA president, Al Bates.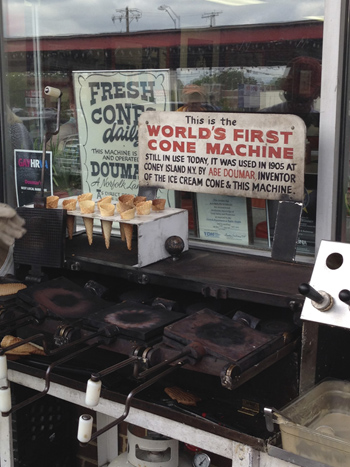 Doumar's Cones & Barbeque
home of the first ice cream cone maker
Photo Credit: Lee Arnold
The opening event Wednesday evening was the highly-anticipated Artists' Fair (see below), which gave collectors a chance to preview new and innovative work by their favorite artists. As usual, no one was disappointed. While some attendees were focused on getting a head start on their shopping, others socialized with old and new friends, enjoying drinks and a lavish buffet. The opportunity to view more lovely items soon followed when the Dealers' Fair opened. Serious collectors eagerly moved from booth to booth — there was so much to see. The analogy of "like a kid in a candy store" could have applied to many in attendance. The Dealer's Fair was open on other occasions throughout the four-day convention, allowing for ample opportunities to shop.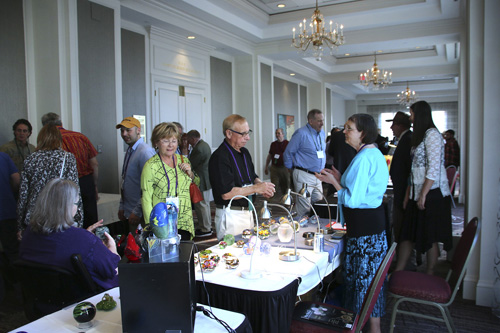 Artists' Fair
The conference opened Thursday morning with a warm and charming welcome from President Phil Edelman (below) who introduced current PCA Board Members. Then the real education began: the first of many wonderful and informative presentations by some of the foremost paperweight experts in the world. Retired physicist Alan Thornton (below left) delighted us with his masterful effort to decipher "How Many Glass Paperweights are there in the World?," as well as to dispel some common misconceptions such as: "Chinese weights are rare" and "antique weights are common" (learn more by reading his article in the 2017 Annual Bulletin). In a presentation on Pantin (photo of exhibit below), paperweight author and historian Paul Dunlop (below right) proposed a novel theory that Pantin was not only responsible for creating realism in their lampwork pieces, but also created millefiori weights that have thus far been attributed to early Clichy.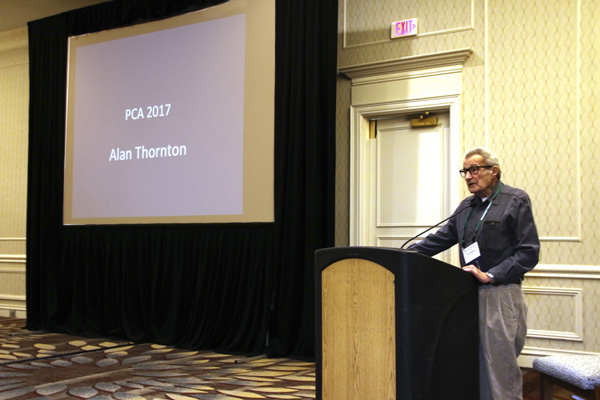 Phil Edelman
| | |
| --- | --- |
| | |
| Alan Thornton | Paul Dunlop |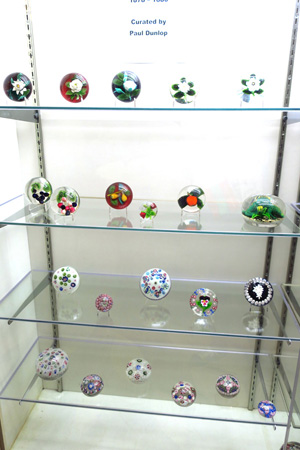 Pantin Exhibit
Other interesting speakers presenting programs throughout the event included Dr. Jim Barton, speaking on his extensive knowledge of sulphide paperweights, and Allan Port & Angela Bowey, who coordinated their research in a talk titled: "Vasart, Pirelli, and Lassman," which described the interplay between three UK companies (in business during the mid- twentieth century) whose efforts in the glassmaking industry would play a significant role in the later success of others to follow — in particular, Strathearn and Perthshire.
| | |
| --- | --- |
| | |
| Dr. Jim Barton | Angela Bowey |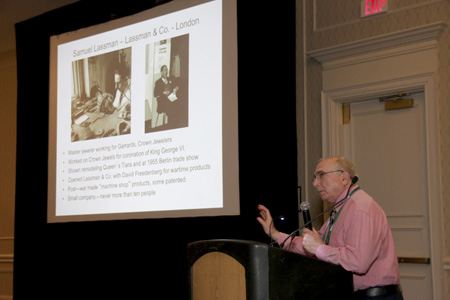 Allan Port
Of all presentations given, however, the most dramatic was delivered by businessman and collector, Wes Clark. His talk "In Pursuit of the Russian Imperial Ring, a 30 Year Odyssey" wove together a masterful story that involved two tales of mystery and intrigue — one regarding his own international quests to find rare treasures, the other, Larry Selman's journey through the dangerous backstreets of Eastern Europe in search of one of the rarest and most exquisite pieces of glass artistry ever seen, a "Russian Ring." PCA members were captivated by slides of this most elusive and important work: a 19th century 83?8" ring filled with 60 exquisite lampwork flowers with a provenance that may very well date back to Russia's last Imperial Family, Nicholas II and Alexandra. After Larry Selman acquired the majestic piece, it sold in a private auction for a quarter of a million dollars (just shy of the record-breaking "Clichy Basket of Flowers" sold by Sotheby's in 1990 for $258,000). It has not been seen for decades, but on this very special day all that changed. To everyone's disbelief, the ring had been located and secretly flown to Norfolk, only to be unveiled at the end of Wes Clark's talk. The moment was purely magical; the audience awestruck!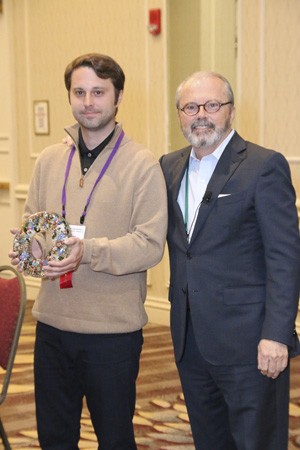 Russian Imperial Ring
Other lovely treasures that delighted attendees were two special exhibits on display in the Dealers' Fair. "Pantin Glassworks 1878 - 1880" was curated by Paul Dunlop and showed a stunning collection of weights, including some millefiori pieces that Paul has recently attributed to Pantin. In addition, an exhibit of "Vasart, Pirelli, & Lassman Paperweights and Related Objects" was charmingly displayed, courtesy of Allan Port and Angela Bowey. This presentation included whimsical Disney-themed Pirelli glass animals, Vasart millefiori weights turned into doorknobs (cleverly marketed by Pirelli as "Unique Beauty Within Everyone's Grasp") and bar-related tools, in particular, a complete Lassman Vasart Deluxe Bar Set — all six pieces made with millefiori handles and showcased in the original carrying case.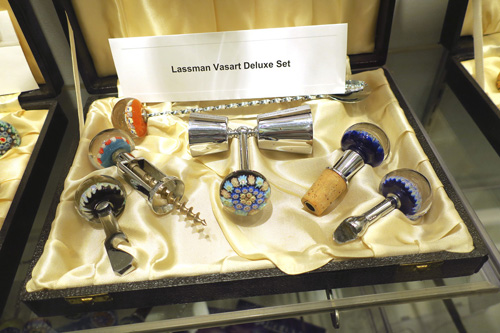 Complete Lassman Vasart Deluxe Bar Set
Presentations by artists Cathy Richardson and Melissa Ayotte (see below) were also greatly enjoyed. In "My Artistic Journey" Cathy shared her step-by- step evolution into glass art, beginning with stained glass and then progressing into commercial sandblasting, marbles, and then torchwork paperweights depicting environmental themes. Her latest venture, glass engraving, forms a beautiful accompaniment to her torchwork bouquets. "Floral Ginger Jar" pictured in the 2017 Annual Bulletin is a perfect example of her stunning new work. Melissa Ayotte's talk "The Next Evolution" was passionate and paid homage to her mentor/father, Rick. Like Cathy, Melissa is greatly inspired by studying nature, working hard to capture life- like qualities in each piece she creates. Stretching the limits to alter the typical shape and texture of the paperweight form, Melissa adds a sculptural quality to her work. The Nest Series, a collaboration with coldworker Jim Poore, is a big hit with collectors.
| | |
| --- | --- |
| | |
| Cathy Richardson | Melissa Ayotte |
The Artist Panel (below) highlighted work by others with talent. Moderated by Colin Richardson with the theme "Emerging from the Shadow," panelists David Graeber, Daniel Salazar, Eric Hansen and Drew Ebelhare. shared their personal journeys into glass by focusing on aspects of mentorship, inspiration, and ultimately, the development of one's own individual style. Each of these artists took different paths:
Eric Hansen learned from a family of glass artists including his father and two uncles;
Daniel Salazar spent years at Lundberg Studios working side by side with older brother David and various other studio artists;
Drew Ebelhare learned by studying the works of the Classic French makers; and
David Graeber had two influential mentors, most notably the renowned Paul Stankard.
Either alone or in collaborations, each of these artists have evolved to making weights that truly reflect their own unique artistic sensibility and style.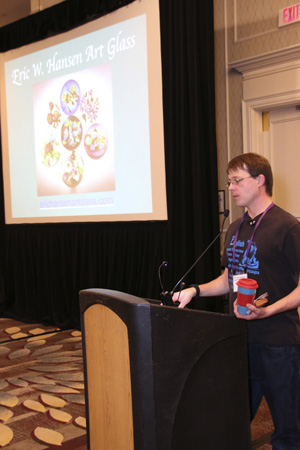 Colin Richardson, Artist Panel Moderator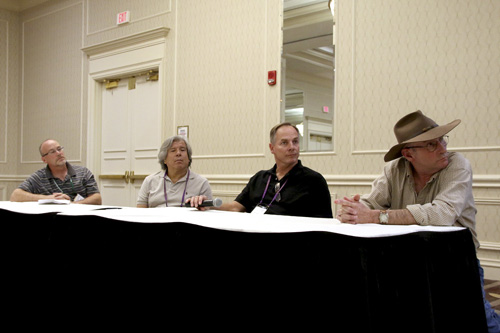 Artist Panel
On Friday afternoon PCA members visited the Chrysler Museum of Art which houses more than 30,000 works, one-third of which is glass. Attendees were especially drawn to the extensive Tiffany collection, French glass that included a small collection of paperweights, English Cameo Glass, and pieces from the pioneers of the American Studio Art Glass Movement, all of which was just a fraction of the glass on display.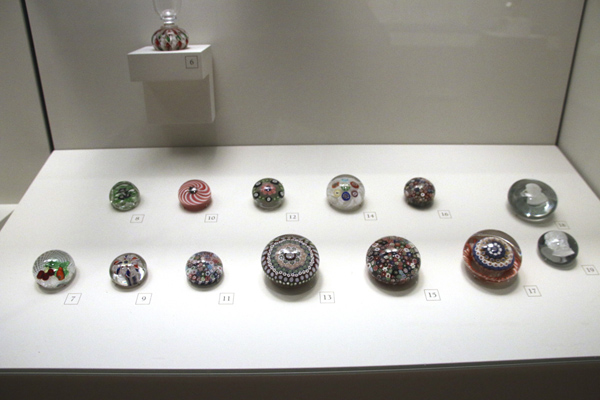 Chrysler Museum Paperweights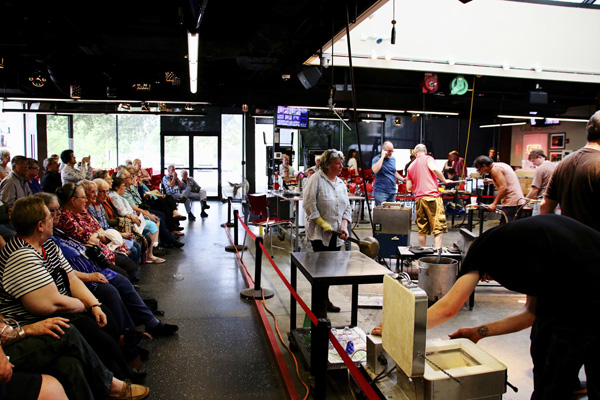 Chrysler Museum Hot Shop Demos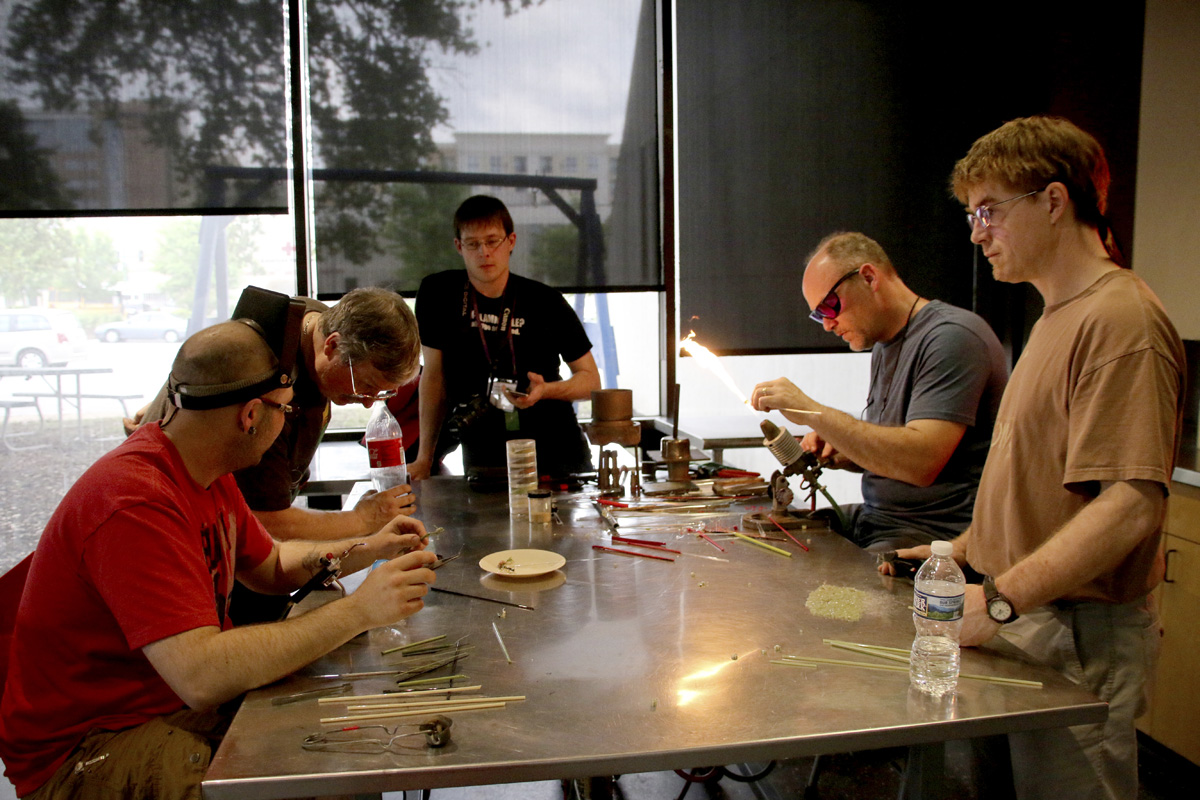 Museum Hot Shop
Many especially enjoyed the demonstrations at the museum's hot shop moderated by Artist Representative Cathy Richardson. Collaborative teams included: Mayauel Ward and Gordon Smith; David Graeber, Chris Sherwin, and Clinton Smith; Michael Hunter and Colin Richardson; and Damon McNaught with Andrew Najarian. The teams delighted the audience with artistic and technical skills that were performed in amazing harmony. Of special note was Andrew Najarian's coldworking demonstration, where the audience could watch him facet a paperweight.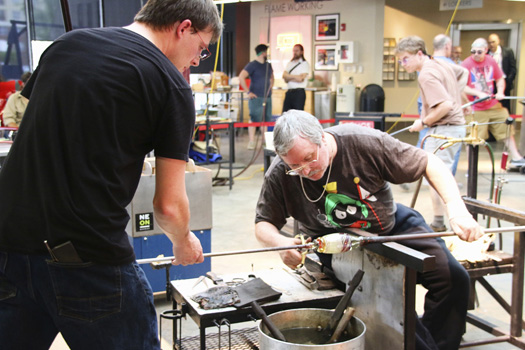 Colin Richardson & Michael Hunter
| | | |
| --- | --- | --- |
| | | |
| Gordon Smith | Damon McNaught | Andrew Najarian |
On the final day, convention activities included the Biennial Business meeting, the always popular ID clinic, and the afternoon Paperweight Art Expo. In the business meeting, all were happy to hear that the executive board has agreed to stay on with the addition of Steve Richardson, serving in the newly appointed position as Director of Outreach. In the ID Clinic session, with experts Jim Lefever, Alan Thornton, and Andrew Dohan presiding, the most exciting find was a millefiori weight containing roses and several types of square canes which the panel determined to be of uncertain antique French origin. Late in the day over forty people from the local community came in to see the Art Expo.
The convention closed Saturday evening with a cocktail hour and banquet. Small Dogwood blossom (state flower of Virginia) weights made by Chris Sherwin adorned each table. Collaboration weights made in the Museum Hot Shop were auctioned off by Andrew Dohan to enthusiastic bidders. As members dined, President Phil Edelman made his closing remarks and thanked his Board, giving a special nod to Convention Director, Ellen Rostker. He introduced Cathy Richardson who is to continue as Artist Rep, and Ben Clark as the new Dealer Rep, replacing Bill Pitt. As attendees made their rounds to say final farewells to cherished friends, it was clear that once again, the PCA convention had been much enjoyed by all. Norfolk, Virginia was indeed a perfect place for glass lovers, with the romance of the paperweight still quite strong. So too, the bonds forged with other collectors, dealers and artists who live near and far — friendships that are meant to last a lifetime.