Toledo 2009 Snapshot Memories:
The 2009 PCA Convention
Toledo, Ohio
by Dr. Ed Sheldon
Photography by Stanley Kruger
The 2009 PCA Convention was held in Toledo, Ohio, once a major glass producing center and still today home to the Libbey Glass Co. One of the great attractions in this city is The Toledo Museum of Art, which opened in 1901, financed by the founder of Libbey Glass, Edward Drummond Libbey. More recently the Museum opened their new Glass Pavilion in 2006, which was described by the New York Times as reawakening "belief in the power of glass to enchant".
Just a skip and a jump from Lake Erie, hard by the Maumee River, literally hugging its West bank, the downtown Toledo, Ohio, Crowne Plaza Hotel welcomed the 2009 PCA biennial convention. This gritty industrial city, particularly hard-hit by the economic downturn, found the arrival of a joyous band of paperweight collectors and the glittering array of their objects of focus a therapeutic bright spot and welcome interlude. The local print and broadcast media affirmed as much, sharing news that tasted good for the locals and beyond.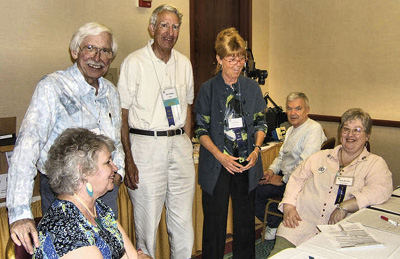 The friendly faces who manned the Hospitality Suite
(click image to enlarge)
Arriving registrants streamed through 'convention central' Hospitality Suite for starters. Pictured above are Dorothy Reid (the local concierge and hospitality hostess) plus PCA Board members Ed Sheldon, John Hawley, Patty Mowatt, Ben Drabeck, and Diane Warning. This place served as a socialization center, purchase center for ephemera, assistance to attendees with questions, and rest stop.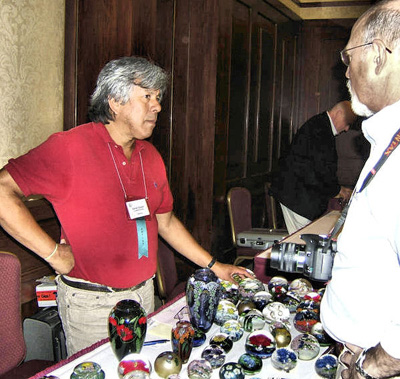 Danny Salazar from Lundberg Studios shows off his latest creations
(click image to enlarge)
Heeding the old adage to 'eat dessert first', collectors whetted appetites at the ever-popular opening Artist Fair. An intimate venue liberally embellished with cornucopias of snacks and libations facilitated lively social engagement among collectors — an opportunity to greet old friends, make some new ones, and most important, talk with the artists.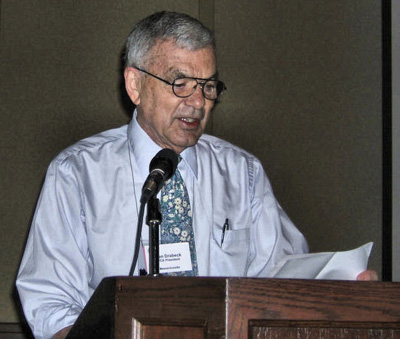 President Ben Drabeck giving the opening address
(click image to enlarge)
Officially opening the Convention on day one, Ben Drabeck, PCA President welcomed all and launched his topic "But is it Art?" This thesis can be read in the July '09 PCA Newsletter. With its own positive themes, it also answered a challenging, uncomplimentary treatise on the classical paperweight form in the Fall 2008 publication of GLASS, authored by a Philadelphia art critic.
Marek Kordasciewicz followed, demystifying that recurring term 'Bohemian' as it particularly relates to glass production, especially paperweights. The history, chronology, and geography was thoroughly covered and in print should be an excellent reference resource.
Paul Stankard's refrain, "A Creative Journey of an Artist in Glass", recapped this notable and respected artist's very personal experience, including personal struggles and finally rewarding integration of family members into his Studio and activities.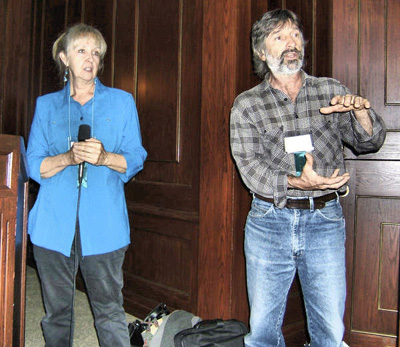 The Toccalinos sharing details of
their artistry, inspiration, and methods
(click image to enlarge)
Lunch and Learn — the opportunity to informally listen to and interact with artists in small groups — occupied one lunch period. Other artists also presented to attendees in the breakout sessions.
That scholarly, professorial PCA expert and author on American glass paperweights, John Hawley, nicely recapped "Paperweights of the American Classic Period." Watch for it in print if you missed this excellent tutorial presentation.
'Brit' physicist and enthusiastic paperweight researcher Dr. Alan Thornton took his title "If This Is Thursday It Must Be Belgium" from the historical geographic shifts in Western Europe that influenced the area now known as Belgium.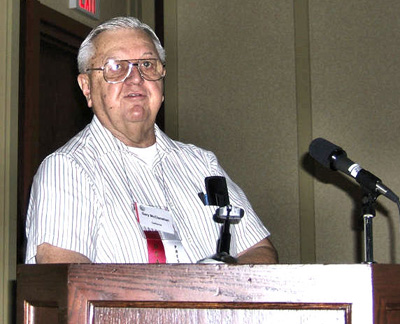 Gary McClanahan giving his presentation
on Midwest Paperweights
(click image to enlarge)
The wake-up call on Convention day two, Gary McClanahan's ambitious undertaking, "Midwest Paperweights From A to Z", segued from a pre-talk, serial fifteen minute Powerpoint® array of sixty projected images of Midwest paperweights. Background 'Blue Grass' music appropriately embellished that scene. Gary's presentation, typically crisp and didactic, encompassed pictured weights by only one hundred artists, hardly a scratch on the known total, and many were names that are not in the compendium of artists familiar to most of us. So much more to learn and know.
Yet another popular speaker, Gay LeCleire Taylor, recently retired Curator of the American Museum of Glass, charmed all with her liberally illustrated offering, "Who Gives a Frit: Millville, Corning, and Mid-Western Examples."
Acknowledging the place we were — Toledo, a historic epicenter of glass production, the raison d'etre for the convention venue's selection, substantially influenced by the Glass Pavilion associated with the Toledo Museum of Art — mandated hearing from a 'local.' Assigned the task was Baker O'Brien, herself a glass artist who worked alongside Dominic Labino, local legend and an icon in Toledo's glass art history. He, with Harvey Littleton, are credited with starting the studio glass art movement, O'Brien reminded us. The storied history of Toledo as a glass center was thoroughly illuminated in a presentation that encompassed the Libbeys' role, impact, and legacy, all detailed by presenter Mary Karazim during convention visitors' visit to the Glass Pavillion. Earlier, in the Pavillion glass-walled auditorium, Jutta Annette Page, museum curator, introduced attendees to the museum and its collections. Convention-goers, bussed to the museum to explore and learn, were especially captured by live glass work demonstrations in the hot glass shop executed by PCA member artists.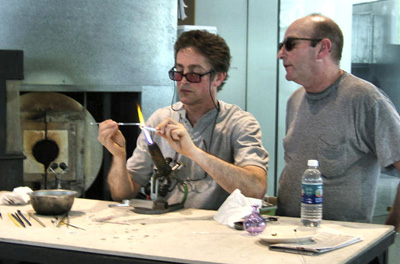 Gordon Smith at the torch with Drew Ebelhare looking on
(click image to enlarge)
Final convention day opened with Jan Mirenda Smith, Executive Director of the Bergstrom-Mahler Museum, sharing the story of the facility now celebrating its fiftieth anniversary, recounting the programs, its growth, and innovative plans for the future, 'The Next Fifty Years'.
The Identification Clinic, staffed by Patty Mowatt, moderator, and participant 'experts' Gerry Gard, Jim Lefever, and Gary Underwood, dug into their task: forty-three submitted mystery weights to transform to enlightened status. Terry Kovel (syndicated columnist and author about everything antique), a PCA member and first-time convention attendee, was charmed with this feature, noting: "The ID Clinic alone was worth the whole convention registration fee."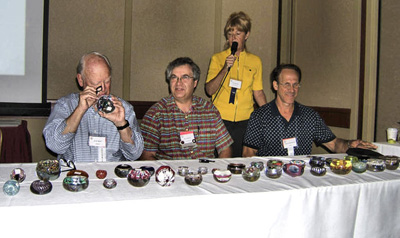 The ID Panel with Gerry Gard caught diving optically
into a weight with his loupe for finer details.
(click image to enlarge)
Throughout the days of the convention, attendees had recurring opportunities to visit the Dealer Fair to ogle, shop, learn, and interact with dealer and artist members. The Saturday PM hours of the Dealer Fair were open to the public for a small admission fee, invited as advertised in the local media. One hundred and twenty-some showed up. As added features, the guests were treated to two presentations: "A Paperweight Primer" by Susan Kaplan Jacobson, and/or Gordon Smith's animated and charming offering, "Why I Make Paperweights." There were free drawing gift weights also presented throughout the afternoon.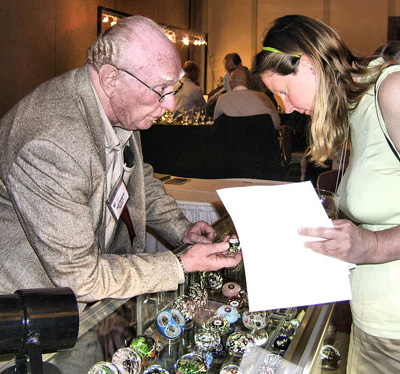 Dealer Jack Feingold (Gem Antiques) shares
some fine points with a prospective purchaser
(click image to enlarge)
Prominently displayed in the Dealer Fair was an excellent assemblage of Midwest weights capturing and illustrating the convention theme. It was thoughtfully arranged by Nancy Alfano and her dedicated volunteer committee.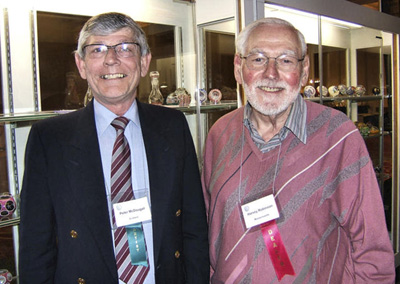 Artist Peter McDougall and dealer Harvey Robinson
stand by the display
(click image to enlarge)
Closing the convention, the banquet gave all a final opportunity to say good byes. More than a few were lucky and gratefully took home door prizes generously donated by our dealers and artist-dealer friends.
2009 Convention Commemorative Paperweights
These two paperweights were offered in a limited edition of 50 per artist: