First PCA Convention, Here I Come - Gulsari Byrkit
Tomorrow I fly to Dearborn. I still can't believe in one day I will be at my first PCA Convention. I go through my checklist over and over again: Richard Loesel paperweights for sale, check... booth decor, check...presentation notes, check... 25 Whitefriars Paperweights for Tony Graham exhibit, check... My list is long. 
Planes make me nervous but this time I forget all about my fears. The excitement of the Convention is something I have never felt before. I just want to be there. 
I have been collecting paperweights for ten years now. A little treasure (Baccarat George Washington Sulphide 1954) I found in a Goodwill store started it all. I was immediately hooked. Whitefriars followed Muranos. Saint Louis paperweights followed millefiori bottles. I added a little bit of this, and a little bit of that with my expanding knowledge. 
Paperweight collecting was a world I created for myself filled with beautiful things. Paperweights, pictures, books. It has become my passion over the years. I can just go in my world and forget all the other things happening. 
One day I found out about the PCA – "Hmm – there is an association for people like me" I thought. Several years passed until I made the first move of becoming a member. I would get bulletins and I would think "people are actually doing research and writing articles about these things". I was still a quiet collector in my own shell. I didn't know one single person. When I talked about paperweights with my friends, they thought I was speaking another language. It was a hobby, a lonely hobby. 
Then came social media: Facebook pages about Paperweights. What a great idea!!! I created my own 2 pages: "Whitefriars Paperweights Collectors Group" and "Millefiori & Lampwork Bottles and Inkwells" in 2017. That was one of the best things I have ever done. I could post what I had or what I liked, indirectly share my collection. The authors I would see in PCA Bulletins would appear on my Facebook pages one after the other. The sellers on ebay® would have a face, collectors becoming my friends. Each day I had a special reason to be on social media. I would post pictures, spread the love of paperweights. The response was great. This was fun. This was exciting. I am not alone. I meet with different people everyday online. 
Soon I will be in Dearborn meeting collectors like me for the first time. I am nervous. Oh yes I am! I have been chatting with a lot of people in the past two years online but being there in person, finally being at a Convention to meet them for the first time giving me a rush of adrenalin. I can't find words. It is finally happening. 
Tuesday afternoon I am standing in front of the hotel. I still cannot believe it. Two years ago coming to a Convention was just a dream. Now here I am, I really am here. Somebody please pinch me ... 
The hotel restaurant is filling up with familiar faces. Our table is getting bigger and bigger. I am meeting with my online friends one after the other. I feel like I know them already. So happy to see my friend Carl, finally meeting Pam and Rick – oh, look who is here: Alan Thornton and Mike Hunter. Here is my friend Tony from UK. Tony has been my first paperweight friend. I have never met him. And here are the PCA Board members – Ellen! My friend Ellen I was chatting with the last 8 months. Diane who I was communicating with for the exhibit. Cathy – I am so happy to see Cathy. It is overwhelming in the beginning but each minute I feel more comfortable. 
I am here for the first time. Everything is new. For a first timer I have a lot of jobs. I am here for my French artist friend Richard Loesel who I proudly represent. It is his big first time too. Two years ago when we were talking about a PCA Convention, this was only a dream for both of us. Today we are here. Unbelievable. I am his translator, his salesperson and also helping with his presentation. 
It is funny that people know me and I know them. Thanks Social Media. I am here as the collector, the host of FB pages and Richard Loesel's translator. It has been 14 years I haven't been someone other than someone's mom or someone's wife. As one of my old friends said before I left town: "get out of your mommy clothes and go enjoy your alter ego". She is right. Paperweights are giving me a new purpose. 
Wednesday is the big day: Ford Museum, Artists' Fair, Dealers Fair. My rusty French is still struggling ... 
Am I going to find the right words to translate? Take a deep breath. Everyone is so nice. Everything will be OK. More and more people showing up. I know them. It is so great to meet them finally. Why didn't I come to a Convention earlier? 
I am having fun. These people are great. Such a cool atmosphere. I see the artists I know. Nice to see you again Damon MacNaught. Happy to meet you Mike Hunter. It is so nice to share a table with you Ken Rosenfeld. Hi Dave Graeber... First time I meet Chris Sherwin, Clinton Smith, Drew Ebelhare and Sue Fox, Jim Brown also Alison Ruzsa. I get a big hug from Gordon Smith. Cathy Richardson and her son Colin Richardson are my fellow Minnesotans. The Scottish artists Craig Deacons and Gordon Taylor are here too. All my collector friends are here. Instant friendships forming. This is really a Paperweight Heaven. I get to meet all the dealers I have bought from in the past. It is so nice to put a face on everyone. It is a big sweet family.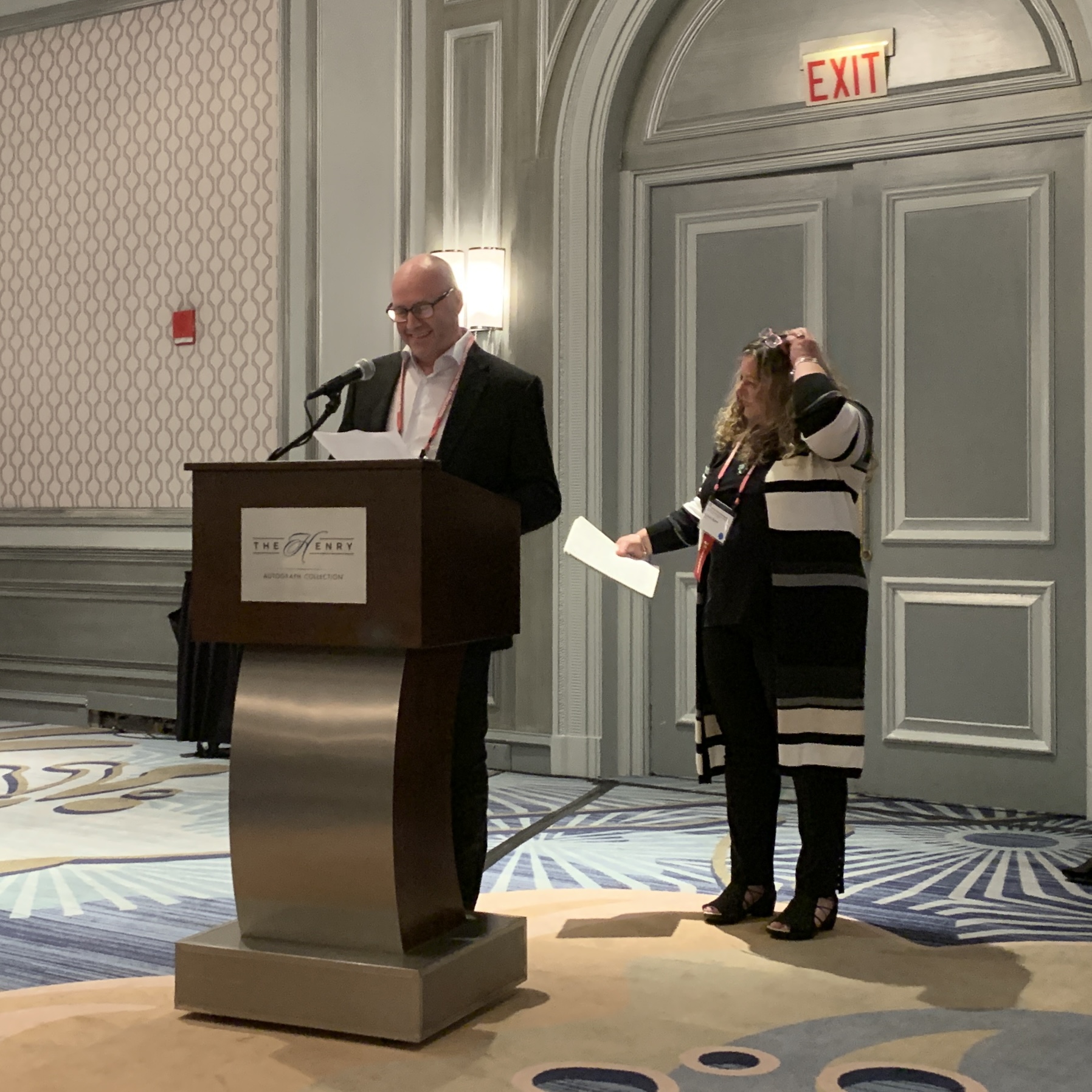 Richard Loesel & Richard Loesel
Thursday is the big presentation day. Richard is talking about himself to American Collectors. I am translating. I am so nervous. He is so nervous but everything goes well. We have a great response and we have more people visiting us at our table. American collectors love his work. He is having a good time. Each minute is filled with great conversations. I really like to gather around a glass of wine at the end of the day with the artists. I could never imagine I would ever get that close to these talented people. Star struck again... 
Friday is live demonstration day. This is one of the best parts of the PCA Convention. All the artists present work together. It is so captivating: constant movement, constant creation. You don't know where to look. They are doing what they love. We feel part of the creation. 
Saturday. It is hard to believe this is our final day in Dearborn. Identification Clinic is fun. The Dealers Fair is open to the public. It is final hours for finding deals. Artists, dealers are wrapping it up. Hardest hours are during the Banquet Night. We know as all good things, this is coming to an end. I don't want the servers to bring dessert. Can you please slow down? And here we are already saying goodbyes. How did this happen? Where did the four days go? I am sad to leave. This wasn't enough. But I am thinking all the friends I have now. They are not just social media friends anymore. 
Do you know how it feels to be here for the first time? 
Think of your favorite children's book. For years you just turn the pages, looking at pictures, those colorful pages with all these personalities. You just turn pages and dream, and dream. You feel like an outsider. One day in May 2019, you open the first page. A book character grabs you by the hand and pulls you in. Suddenly you are part of their world. You are part of the action. You are a book character. You are not in your quiet shell anymore. You have BECOME part of the book. You are one of them. You know what you were missing out. You just wonder why you waited this long.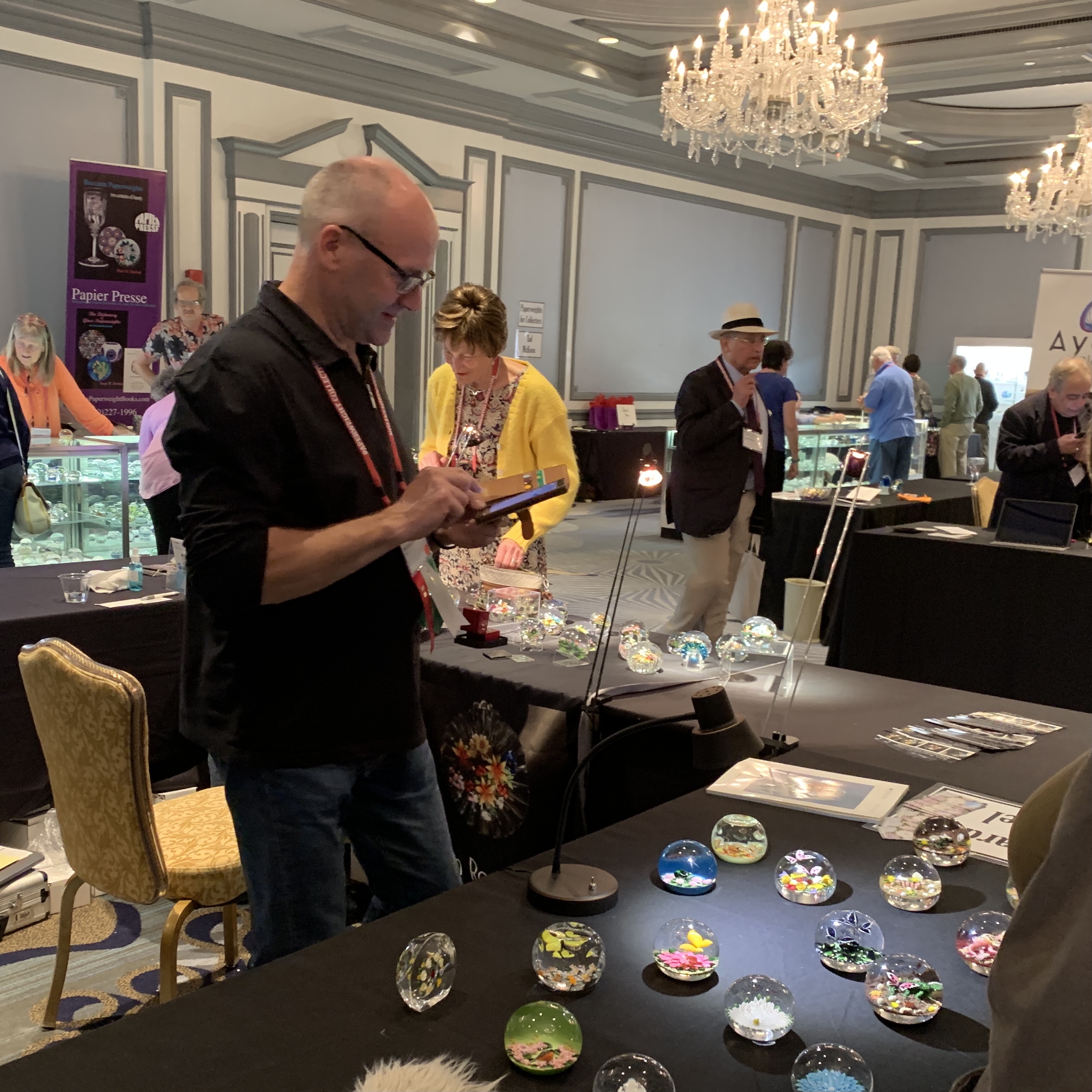 Richard Loesel at Dealer Fair
[Originally published in 2019 Q2 Newsletter]
Share this post: